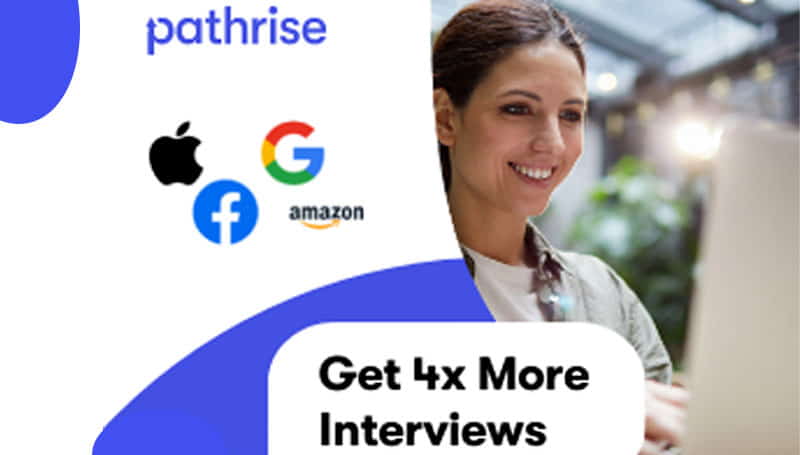 Avail this awesome career opportunity offered by Pathrise, an online program for tech professionals that provides 1-on-1 mentorship, training, and advice to help users land their next job. The most interesting thing is that you will only pay if you succeed in getting hired and start working at a high-paying job first. What an amazing offer, isn't it?
Before diving in on how to submit your request, let's discuss the process you'll be experiencing at Pathrise:
Every one of us dreams of working at top-tier companies like Google and Microsoft, but the truth hits hard, we do apply but never get to hear back, it's literally like sending our applications to a black hole.
This is where Pathrise jumps into the game, offering a super flexible curriculum and access to specific career experts (needed during our job search). Best of all, you didn't have to pay until you got your new job!
Once you start your 2-week trial at Pathrise, the professional mentors will help you create a personalized game plan, and even applies for jobs and reaches out to hiring managers on your behalf.
Your mentor will revamp your resume and LinkedIn so recruiters flood your inbox. It will also help you stay organized by logging the applications in the Pathrise platform and allow you to check in weekly with your career mentor.
Soon, you can expect so many interviews booked but now it's time for prepping. At Pathrise, you can book sessions with key specialists, so that you can Ace your first-round interviews. The expert you'll meet is real fang recruiters who'll teach you the insider secrets to calm your pre-interview nerves.
After that, you'll meet with a mindset coach who'll help you overcome your anxiety. After smashing the first round, you'll be working with your industry mentors to refine your key skills. To Ace the technical interviews, you'll be practicing whiteboarding.
Now to expect, your interviewers will be thrilled by your level of technical expertise. Within three or more months, you can land your dream job.
Not only this, but with the help of your salary negotiation specialist, you can score a huge raise. At a glance, you have your dream job at double your old or no salary. As a Pathrise fellow, you can expect to get twice as many application responses and double your interview scores which technically increases your income by 10% to 20% through negotiation support alone!
Pathrise is free until you land your dream job, once you're placed at a job, you'll pay them back in small monthly increments, but they won't get paid until you do so!
So they do everything possible to find you the highest paying role.
All you need to do is:
Fill out a short form with your name and email address.
Click on "Apply Now".
Next, complete all 5 steps to send a successful application for your enrollment. The steps will include fields that ask for your information like your resume, LinkedIn profile, phone number, and other necessary details.
Don't wait more, grab this opportunity now!
Special Note: It's a 12-month guaranteed program with a 14-day free trial!