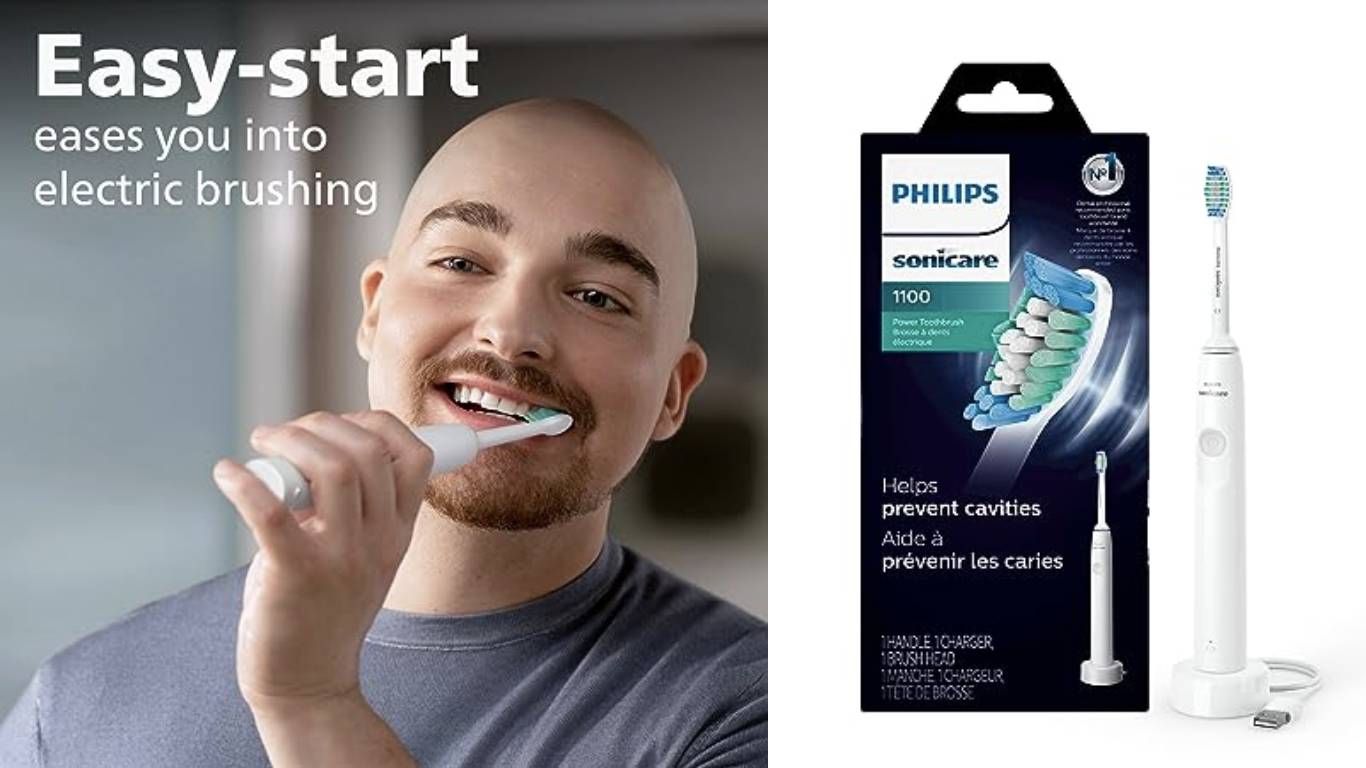 Amidst a sea of electric toothbrushes on the market, I decided to personally test the efficiency of the Philips Sonicare 1100 electric toothbrush. In the following section, I'll offer a genuine review of how well it works, discussing its strong points and areas with room for enhancement.
Philips Sonicare 1100 Power Toothbrush Review
Design:
Upon first glance, one can immediately appreciate the well-thought-out design that ensures a comfortable grip and easy handling during the brushing process. Philips asserts that the bristles, packed densely and crafted from top-notch materials, exhibit the capability to eliminate plaque up to three times more effectively compared to a manual toothbrush.
Additionally, the specially shaped bristles conform to your teeth contours, enabling uncomplicated cleaning of even the most inaccessible nooks.
To be candid, I personally perceived the design as uncomplicated yet functional, with the bristles of the brush head exhibiting impressive proficiency in dislodging food particles wedged between teeth. Notably, the brush head seamlessly attaches and detaches from the handle, ensuring a stable connection and facilitating convenient upkeep and sanitation.
The product bundle comprises a singular handle, a USB electric toothbrush charger, and a brush handle.
Technology:
What stood out to me regarding this Philips electric brush was its Easy-Start tech, smoothly boosting the brushing strength through 14 sessions, aiding me in acclimating to the electric toothbrush for a more pleasant brushing experience.
Moreover, the sonic mechanism sends gentle water pulses amidst teeth, while brush movements disintegrate plaque, taking it off to ensure a remarkable everyday cleanse. Strong bristle oscillations push minuscule bubbles extensively between teeth and across gum edges, creating a revitalizing feel. Achieve the equivalent of two months' manual brushing in a mere 2 minutes.
At a rate of 31,000 brush movements each minute, it effectively tends to your teeth, dismantling plaque and removing it to ensure superb daily hygiene.
Personally, I felt a difference between manual and powered brushing, with the latter presenting a milder yet more effective brushing impression.
Brushing Experience:
The slender brush handle includes a 2-minute timer and a 30-second reminder, promoting a positive brushing habit. The timer makes certain you brush for the advised duration of two minutes, while the reminder encourages transitioning to another mouth area every half a minute.
I discovered these attributes to be incredibly useful for comprehensive oral hygiene.
Manual vs. electric tooth brushing:
The Philips Sonicare electric toothbrush has been backed by clinical evidence for its plaque removal prowess, surpassing manual brushes by 3 times. Its cleaning action encompasses both teeth and the gum line, all while ensuring gum well-being.
My experience with this rechargeable electric toothbrush was marked by its impressive plaque-elimination capability.
Battery Life:
Philips states a fortnight of typical usage from a sole charge, and I discovered it to be quite in line with their assertion, letting me carry my toothbrush sans concerns about depletion of power.
Pros:
• Cutting-edge sonic tech
• Surprisingly budget-friendly
• Automatic 2-minute timer
• 30-second interval notifier
• Premium quality materials
• Leading brand among dental experts
Cons:
• One brushing function
• No additional brush attachments
• Doesn't have smartphone linking
Conclusion:
On the whole, the Philips Sonicare 1100 power toothbrush proves to be a remarkably efficient instrument for enhancing oral well-being. Melding a potent motor, distinctive cleaning mode, and uncomplicated attributes, it emerges as the preferred option for those parting ways with manual brushing.
The W-shaped brushing component and delicate bristles stand as commendable additions. Nonetheless, the inclusion of sole Sonicare's C1 brush head feels restrictive, warranting a more diverse selection. Additionally, the incorporation of two brushing modes would have garnered favor.
Priced at $25, I can't complain much since it is a budget-friendly electric toothbrush. I recommend this for any adult switching from a manual to an electric toothbrush.