Want to host a budget-friendly Thanksgiving dinner but worried about appearing cheap? You don't have to! Check out these hand-picked smart tips for saving money this holiday season.
Thanksgiving is just around the corner and you want to host the perfect holiday dinner for your family and friends. But, inflation in 2022 has you worried about bills, grocery expenses, gift purchases, and now, even arranging a party! Prices have gone up almost double. Plus, what if you're already on a tight budget this year? Undoubtedly, this is quite a challenge. But worry not! After hours of researching, we have compiled a great list of the top 15 practical and effective tips to host the perfect Thanksgiving on a budget.
15 Ways to Save Money and Stay on Budget While Hosting a Thanksgiving Dinner
Here you'll find the best money saving tips to throw a successful Thanksgiving party for your family without compromising on anything! We've got all our bases covered. Yes, it is completely possible to host a smashing dinner with yummy food, decorations, fun, and festivities without spending a thousand dollars!
How to Prepare for a Thanksgiving Party?
If you want to have a good Thanksgiving party while also not hurting your financial wellness, then you'll have to start preparing for it early on.
1. Start planning and budgeting as early as you can
Not just on Thanksgiving, planning works all the time. Whether it's Halloween or Thanksgiving, you should start preparing for the holiday at least a month or at most a couple of weeks earlier.
To host a budget-friendly Thanksgiving dinner, you should start by listing down all you need and how much you can realistically allocate to each category. Try distributing the budget between food, gifts, and decorations. In this way, you will be able to divide the amount of money in your budget. Plus, you'll have an estimated total to get you started.
2. Use a Budgeting app or a budget planner to track your expenses
It is helpful to use a budget planner while preparing for the Thanksgiving party. They help you keep everything organized and track your expenses. Not only that, there are numerous budget apps available online that are beginner friendly. You can easily manage your Thanksgiving budget with popular apps like Mint, YNAB, Goodbudget, EveryDollar, etc.
Mint is available on both App Store and Google Play. It is the highest-ranking budgeting app for 2022 and is super user-friendly. Overall, it is the best app that you should try for budgeting your Thanksgiving dinner this year.
Don't forget to take your lists with you when shopping, and try to stay within the assigned budget. If you end up saving some money off this budget, that's an absolute cherry on top.
3. Save a little every Month with a Thanksgiving Funds Box
Making a Thanksgiving box and adding a little amount of money to it every month can save you a lot of trouble. Because straining your budget at a time is not a good idea. It affects your upcoming monthly expenses, utility bills, travel expenses, and just about everything.
Instead of blowing your monthly budget in one go, the wiser approach is to save little by little and then spend it carefully on Thanksgiving Day. This is especially helpful if you want to go full-on during Thanksgiving with a lot of people.
4. Downsize your Guest list
Yes, we understand you want to spend this special day with all your family members and loved ones. However, if you are planning a Thanksgiving on a budget, you should only invite those who truly matter the most in your life. In fact, isn't Thanksgiving all about expressing your appreciation and gratitude for meaningful people and things in your life? Wouldn't it be better if it's a small, warm gathering rather than a big one where you might not even care about half the people?
Furthermore, asking everyone you know will throw you off budget. You will suffer for a few months, even after Thanksgiving; and these people won't even care! In fact, a survey by American Farm Bureau showed that the cost of an average Thanksgiving dinner for ten went up by 14% in 2021, to $53.31. That's about $5.33 per head, not to add the extra costs of appetizers, drinks, cocktails, coffee, etc.
And this year, it is expected to rise even more with a 9.5%-10% rise in grocery items' cost. On average, it is estimated that standard Thanksgiving dinner costs will jump about 26% this year, to $66.39. If you limit your guest size, you can save up on the $6.64 per head cost and make your Thanksgiving dinner more manageable. Similarly, adding one or two more people to your guest list means increasing your dinner cost by a whopping $6-$12.
5. Reassess what you already have in the pantry
You might be surprised to discover that you have a lot of ingredients and condiments already in your pantry. So, before you start listing down things you need to buy, take a stock of what you have and only buy what you need.
Economical Tips to Cut Cost on Food without Ruining Thanksgiving Dinner
Food is the biggest area of spending, so here are some practical tips to organize Thanksgiving on a budget effectively.
6. Keep the Menu Short – Prioritize quality over quantity
The menu is one of the essential things when planning your Thanksgiving dinner. To stay on budget, you have to plan your menu smartly.
You can skip the appetizers, or at least limit them to only one, as they are not necessary. Putting out an appetizer platter of something as simple as a cheeseboard can cost you a staggering $25 to $30 dollars.
Also, go for a simple menu including a few delicious signature Thanksgiving dishes like stuffed turkey or bacon, mashed potatoes, green bean casserole, pumpkin pie, and cranberry sauce. You can't go wrong with a traditional Thanksgiving dinner!
7. Do Grocery on Sale Days: Buy in Bulk
Grocery can take up much of your budget even if you plan the menu wisely. The best way to save on groceries is to go shopping on sale days. There are a lot of stores that offer 30% to 40% off on different grocery items near Thanksgiving. Several food brands are offering freebies and discounts for their customers this Thanksgiving, such as Krispy Kreme, Dunkin Donuts, Baskin Robbins, Cinnabon, and more. You can avail them and plan your thanksgiving in a better way. Moreover, take advantage of the free food samples from store brands and incorporate them into your meal prep! Plus, there are always discounts if you bulk-buy. Beware though, don't end up buying things you don't need, and in big quantities at that.
8. Stick to in-season local produce to save money on Vegetables and Fruits
Additionally, a good way to save money on groceries is to only buy fruits and vegetables that are in season. Out-of-season veggies tend to be expensive. So, visit your local farmer's market to find fresh produce that's in season. Usually, during autumn and winter, sweet potatoes, pumpkin, brussels sprouts, and squash are widely available at low prices.
9. Generic food brands are a better option for Budget-friendly Dinner
Similarly, you should go for local products rather than branded ones. As branded items are costly, however, the quality is nearly identical to that of a store-owned product. It's a misconception that famous store brands are better than less-known generic brands.
10. Frozen veggies are not much different from expensive fresh ones!
You might feel pressured to only buy fresh produce for a family dinner however, frozen vegetables are just as good and also cheaper. Since most vegetables and fruits are frozen soon after they are harvested, they retain their nutrition. Besides, no one will be able to tell once they're cooked in a casserole.
11. Simplify your Liquor options or cut it out altogether
It might be tempting to impress your guests with fancy, expensive drinks but it can destroy your Thanksgiving on a budget. It is better to offer only one kind of hard liquor, but with different juices and sodas. This way, you can bring variety, keep the festivities going and also save hundreds of dollars.
12. Opt for Home Delivery
Going to a grocery store with a fixed budget might seem more straightforward, but it's not. In a store full of tempting grocery items, you are likely to get tempted to buy unnecessary things and ruin your savings.
Therefore, it's better to opt for online shopping to stick to your Thanksgiving budget. Many stores offer free delivery on a certain number of orders, you can save on delivery charges. Plus, there are a number of reliable online mobile shopping apps, that will get your groceries delivered to your doorstep, saving you unnecessary fuel expenses.
13. Arrange a Potluck Dinner
A potluck dinner is one where all the guests bring one dish to the feast. This way, everyone can share the event's expenses, and the host is relieved of the enormous cost.
A potluck Thanksgiving dinner will be your best option if you want to throw a fantastic dinner and stay on budget for Thanksgiving. Everyone in your family and friends can bring their favorite dish or whatever they cook best. Those who cannot cook can bring a bakery or something from outside.
Cheap Thanksgiving Decorations don't have to Look Tacky!
A house without holiday decorations looks too bare and decidedly unfestive. Luckily, there are inexpensive and affordable décor options you can try.
14. Go to a Thrift Store for Cheap Thanksgiving Decorations
On Thanksgiving, you don't only spend money on groceries and gifts but also on decorations. Decorating your house and making it look presentable and festive is also essential for the holiday spirit.
However, decoration accessories are costly these days, so we recommend you buy them from a thrift store. You can find some extraordinary pieces or cheap Thanksgiving decorations from the store and be able to save a lot of money.
15. Reuse last year's holiday decorations
Buying extra things can become very frustrating, so before you start spending money on decorations needlessly, scour your house for any decorative accessories. We bet; you'll be able to find Cheap Thanksgiving decorations at home too.
You can check your storeroom or cupboard for any items you can use for decoration. You might find fairy lights, old lamps, or some paintings you last used for so long. You can renew these things and use them for decoration.
16. Candles make for beautiful Thanksgiving decor on a budget
I think we can all agree that the best way to infuse instant magic into any space is to light candles. Fortunately, candles are super affordable too! And no, you don't have to buy scented candles only. Any candle works for decorating a house beautifully. Furthermore, if you have last year's leftover candles, you can use them again by making a giant scented candle and mixing all the leftover candle wax.
17. DIY hanging Thanksgiving decorations on a budget
This one is for people who are good with their hands and creative. Especially, if you know how to crochet, knit or do macramé art, you can easily make some really beautiful decorations and wall hangings for your place. Additionally, you can easily revamp and DIY old items like photo frames, paintings, table covers, and wall hangings by using things available at home.
18. Stock up on gift and decoration items during post-holiday sales
If you host holiday dinners annually, then a good way to have Thanksgiving on a budget is to stock up on things such as gifts, décor items, festive-themed utensils, tableware, etc during the post-holiday sales. Almost all shops have some kind of sale after the holidays to clear up their inventory. It is a good time to shop for good items for cheap and use them next year.
Worried about Gifts going Over-budget? Here are a couple of Budget-friendly Thanksgiving Gift Ideas
Gits are meant to express affection and appreciation, not show off status and wealth. Something simple and handmade goes a long way to make others feel appreciated.
19. Go for Small Tokens of Love Instead of Expensive Gifts
Giving gifts to your loved ones is one of the many things people love about Thanksgiving. But giving expensive and branded gifts can be very difficult if you have a fixed amount of money.
You can rather offer small tokens of love or personalized gifts to the guests, including beautiful bracelets, rings, a pen, a bouquet, a memorable photo, or t-shirts for men. Scroll through trending Pinterest boards for Christmas shopping and gifts to get some good ideas for inexpensive but meaningful presents.
Furthermore, it would be helpful to allocate a specific amount to each recipient's gift. The actual gift might actually not cost that much due to sales and discounts. This way you can clearly see how much you're saving on the gifts budget. For reference, check out this chart below.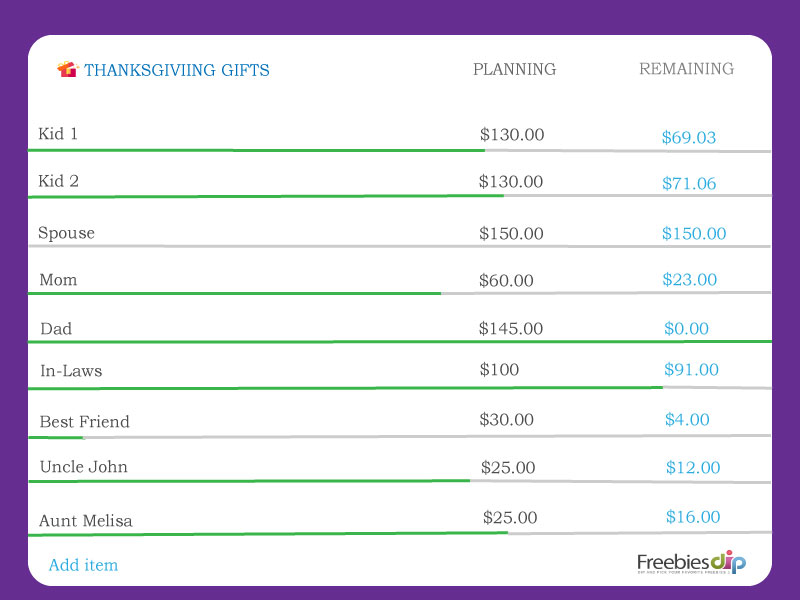 20. Give handmade gifts this holiday season
It's winter, you can knit and you're looking for inexpensive but meaningful gifts. There's your answer right there! Undoubtedly, one of the most meaningful gifts for your family and loved ones is handmade items. This Thanksgiving, you can knit a pair of gloves, beanies, or scarves for your loved ones. Yes, it's a little bit time-consuming but it's absolutely irreplaceable in terms of value. Also, you save money so it's a win-win.
Summing Up
At last, holidays are wholesome occasions when everyone comes together for fun, laughter, and an overall good time. Yes, it can be a bummer to cut costs and skim on such joyous moments. But trust us, you can have an amazing time hosting Thanksgiving on a budget this year if you follow our tips. So, stop worrying about money, remember; this day is all about sharing your love with family and friends, that's why don't struggle to make it perfect; try to live it and enjoy every bit of it.