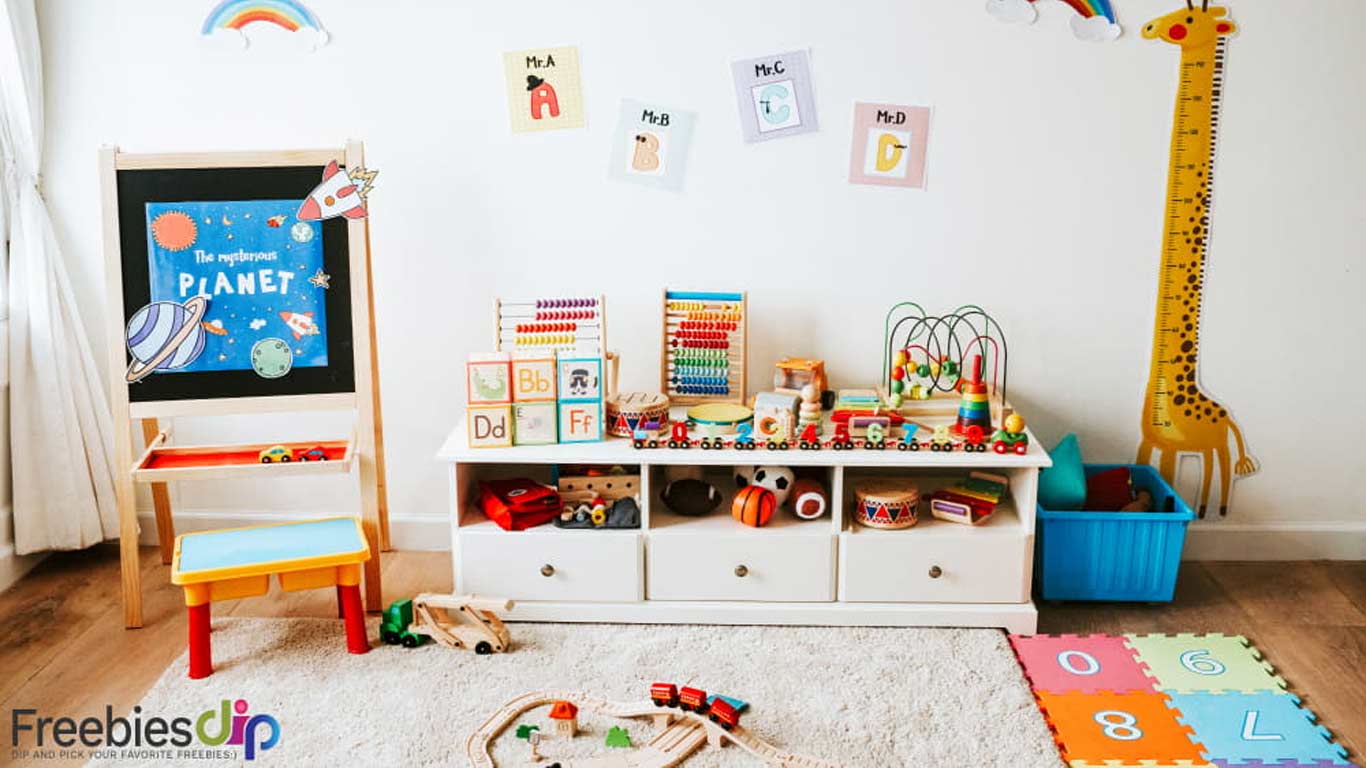 Setting up a dedicated space in the house for children's toys and for them to have different activities is an idea that looks appealing to many parents.
However, it can be complicated to get the process moving. Getting the right idea that works for your family is complex, and budget can also be a real issue.
Finding playroom ideas on a budget that fit your situation does not have to be mission impossible if you know where to look. Moreover, once you see the final result, you will realize that it was worth the try.
First, it is essential to start with a real plan. It is not about putting a number of toys in a room without a clear vision. You need to have a precise idea of what you are trying to accomplish.
Getting the playroom right can be really beneficial to your child in ways that might not be obvious. While the central concept is playing, the setup can be done in a way that stimulates the child's imagination and creativity.
Secondly, elements like a child's age and overall development need to be taken into account. With the right balance, the kid will enjoy the playroom more. You just need to make the play area fun and entertaining.
Moreover, if they end up spending a lot of time playing on their own, you might be able to get more things done around the house. Interestingly, a lot of this can be accomplished on a budget.
Because Baby's Love Deserve the Best: Upgrade your baby's comfort with our handpicked offer – swaddle blankets to diaper bags!
The best kids' playroom ideas are the ones that do not neglect functionality and make the best use possible of the available space.
Here are ten playroom ideas on a budget that can work for your child.
1. Start With the Storage
In order to maximize what you do with the space, it makes sense to begin with a focus on storage. Most children have a lot of toys, and this makes storage an essential part of getting the room right.
However, it is best to keep things simple. Overthinking the matter will not work and might make it harder to manage the space.
When it comes to shelves for a playroom, there are some great options like these.
Another option that can save you a lot of money here is to use shipping boxes as long as they are durable. You can make the entire experience more pleasant by having your child decorate the boxes. Even diaper boxes can do the job in this situation.
Discover creative playroom ideas on a budget with our Pinterest board! Frequently Updated!
In short, you cannot have a playroom without storage. There will be many toys lying around, so it is crucial to teach the child to put the area in order after a fun session.
2. Add Some Colors to the Wall
There are different ways that you can make the walls of the playroom more interesting. A paint job is an option. It does not have to be a lot or cost much.
The idea here is to add bright colors that can stimulate the child's creativity. There is no need to hold back when it comes to the colors that you use in the playroom.
It is fine to push as far as possible and even create a form of contrast with the rest of the house. However, if you find that painting the wall of the play area is too wild and out of your comfort zone, it is possible to go for removable wallpaper designs.
They are also known as peel-and-stick wallpapers, and the good news is that you will not have to spend a lot of money on them.
Best Deal: Amazon
3. Save Money on Toys
If you are talking about big and small playroom ideas, it is impossible not to take a look at toys. Keeping the children busy with affordable toys is an achievable goal if you know what you are doing.
Kids like shiny objects, but they tend to lose interest pretty quickly after the initial high. So, it does not really make sense to put a lot of money on something that they will not use for a very long time.
A little trip to GoodWill or another used toys store can be good in terms of savings. Your child will still have fun, but you will pay way less.
Moreover, if you do not want to leave your house, Amazon makes it possible to buy used toys that are in good condition.
In short, second-hand toys work like a charm if you are trying to complete a playroom for less money.
Mom's Favorite: Amazon, Affordable Used Toys
4. Chalk Blackboard for the Win
This is something that your child will adore, a chalkboard wall in the playroom. It is not very expensive, and kids can let their creativity run wild with them.
Moreover, kids and parents can come together to have fun. The space for the chalkboard wall can be small or large; it is all up to you.
Two things are certain, it will be a pleasant experience, and it does not have to cost you a lot. It is an easy way to take the playroom to the next level.
Furthermore, the chalkboard wall can even have an educational angle to it. It is always a good idea to turn learning into something fun.
Hot Product: Amazon
5. Set up a Reading Spot
Reading is vital for a child's overall development. There is nothing wrong with trying to spread the love of books early on to a kid. This move will be beneficiary in the long run.
That is the reason why having a cozy reading area in the playroom is the right call. It needs to be comfortable so the entire experience can be enjoyable and not a major hassle.
You can turn circle time into a real adventure by adding puppets to the picture. Interestingly, you do not have to invest a lot to make this work.
Second-hand children's books can do the trick and help the magic operate.
Great Value: Amazon
6. Set up an Art Area
Just like for reading, opening a child's mind to art is a great thing. To start the process, you need a table where the kid can draw. You can use the same space for crafts.
To save money, at this point, it is important to get creative using things you have around the house. For example, a shoe box can be used to store papers and pencils. Salsa jars can also have a similar purpose.
Must-Have: Amazon
Moreover, you can even decorate these unique containers and turn them into one of a kind art pieces. An art area in the playroom goes hand in hand with setting up a DIY art gallery. Both are needed.
A string and clothespins are more than enough to get the art gallery ready. This is a simple way to teach your child how to be resourceful.
7. Get the Furniture Right
It might not be the first thing that comes to mind when setting up a playroom. However, the types of furniture that you select deserve attention.
First and foremost, they have to be functional. The idea of fun cannot be left far behind. You need to think about small chairs and tables. They are necessary for art projects.
For the reading part, a bean bag is good enough to do the job. These items are not very expensive.
Popular Choice: Amazon
Thrift stores and Facebook are good places to find second-hand furniture. You will save money and make the child quite happy.
8. Keep the Child Active
A playroom has to be about the body and the mind of the child. Reading and arts take care of the child's intellect. The kid also needs to be able to run, jump, and play while being in a safe environment.
Read Our Complete Guide to Baby Shopping for Expert Tips and Recommendations
How do you do this? Well, you can install a swing in the playroom, for example. Get a rope, a board, and a few hooks, and you are ready to go.
To keep the child busy, a trampoline can also be of great use to break a sweat. Of course, you will need some space to add more items in the same vein.
Top Rated: Amazon
9. A Corner for Imagination
It is a great idea to use different aspects of the playroom to help in the child's development. Imagination is a crucial part of a kid's growth.
You can have an area where you will have clothes so that the child can play dress-up. The kid can pretend to be a firefighter, doctor, nurse, banker, or anything else.
For instance, if you are looking for toddler girl room ideas on a budget, going for cool tutus and tiaras could be a great place to start. Check out the Walmart Baby Box offer for more budget-friendly baby items.
It is possible to get the costumes at affordable prices, especially if they are used.
Customer Favorite: Amazon
You can be creative with the décor, so the child can be free to express their imagination.
Bottom Line
Those kids' playroom ideas on a budget prove that, as a parent, creativity is one of your most significant assets. It is a superpower that money cannot buy, so do not be afraid to use it.
Watching you in action is also a great source of inspiration for the child. In order to set up the best playroom possible, your organizational skills will have to be front and center. You can do this while saving money.
Your efforts will pay off, and the smile on the child's face will be the greatest reward.